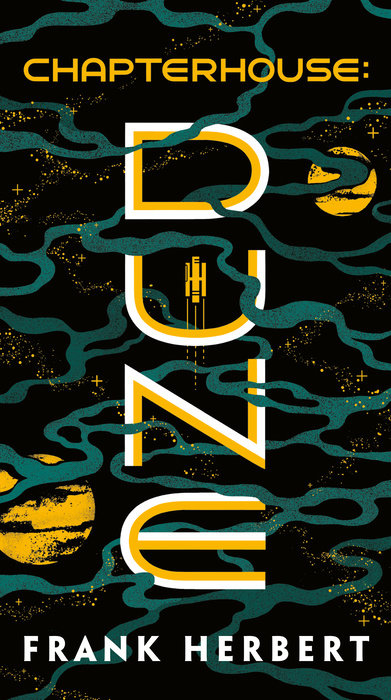 The desert planet Arrakis, called Dune, has been destroyed. The remnants of the Old Empire have been consumed by the violent matriarchal cult known as the Honored Matres. Only one faction remains a viable threat to their total conquest—the Bene Gesserit, heirs to Dune's power.
This was the last book by Frank Herbert in the Dune series. His son took his father's notes for two additional books and published them. He then kept the series alive by writing some of his own — cashing in on the Dune name. I will not be reading them. I will also not read any of Herbert's other books. This one was not understandable by this reader so I'll call it quits.Under the leadership of Mother Superior Darwi Odrade, the Bene Gesserit have colonized a green world on the planet Chapterhouse and are turning it into a desert, mile by scorched mile. And once they've mastered breeding sandworms, the Sisterhood will control the production of the greatest commodity in the known galaxy—the spice melange. But their true weapon remains a man who has lived countless lifetimes—a man who served under the God Emperor Paul Muad'Dib… — Book promo @ goodreads.com
A couple quotes from the book that I did understand and that make a lot of sense.
Laws to suppress tend to strengthen what they would prohibit. This is the fine point on which all the legal professions of history have based their job security.
A top-heavy bureaucracy the electorate cannot touch always expands to the system's limits of energy. Steal it from the aged, from the retired, from anyone. Especially from those we once called middle class because that's where most of the energy originates."

The dental appointment yesterday went well. I went to Morachis Dental Advanced in Naco, Mexico. After having problems with American dental offices I thought they could do the work just as well. That was my two experiences in Algodones so gave them a try.

Last April the dentist in Benson gave me a 'Proposed Treatment Plan' that included extracting the tooth that broke plus two fillings for a total of $755.00. The dentist in Naco, Dr. Morachis, did the cleaning and an exam. Said everything looked good and all he would need to do with the broken tooth is 'smooth' it which he did with no Novocaine and took less than three minutes. The total charge was ₱1,400 which at the exchange rate this morning would be $76.78.
Drove back to Sierra Vista with my first stop at Fry's to completely fill Desperado's gas tank. The prior couple of gas buys were only partial fills because of the high prices; yesterday the $3.899/gal was a relative bargain. HA From there I went to Safeway and picked up some groceries and my mail at the UPS Store next door.

Just across the street was Fix My Device where I could get someone to look at my Fire 10. They said it was charging fine so I have had it charging for the past 18 hours but is still does not boot up. I think I'll get an eReader as a replacement. Last but not least I stopped at Theo's Watch Repair and had a new battery put in my pocket watch which has been dead for almost a year. A very productive day.

The following quote is a good article that makes a case for how history has impacted where the Ukraine is now. A recommended read for a view that the Main Stream Media generally ignores.
History, it seems, can never end, but rather is reincarnated, over and over, from a foundation of history influenced by the actions of the past, infected as they are with the mistakes that are derived from the human condition.
One of the mistakes made by Fukuyama and the proponents of liberal democracy, who embraced his "end of history" ideal in reaching their conclusion, is that the key to historical progression lies not in the future, which has yet to be written, but in the past, which serves as the foundation upon which everything is built.
Historical foundations run deep — deeper than the memories of most academics. There are lessons of the past that reside in the soul of those most impacted by events, both those recorded in writing and those passed down orally from generation to generation. — No 'End Of History' In Ukraine by Scott Ritter

"Two elderly people had been friends for decades. One day playing cards, one said to the other "Don't get mad but I can't think of your name. Please tell me what it is. The other one glared and stared for a long time and finally said, "How soon do you need to know?""

I have this same issue with peoples names but can usually remember my own rather quickly.