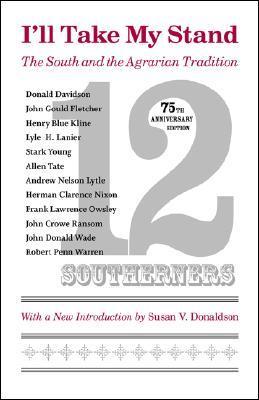 First published in 1930, the essays in this manifesto constitute one of the outstanding cultural documents in the history of the South. In it, twelve southerners defended individualismI don't think they were 'agrarians', they may have been born in an agrarian culture but they were all academics and writers. In these essays they were anti-industrial and pro-individualist but wrote with an academic tone, for the most part, not as 'someone of the soil'. against the trend of baseless conformity in an increasingly mechanized and dehumanized society. In her new introduction, Susan V. Donaldson shows that the Southern Agrarians might have ultimately failed in their efforts to revive the South they saw as traditional, stable, and unified, but they nonetheless sparked debates and quarrels about history, literature, race, gender, and regional identity that are still being waged today over Confederate flags, monuments, slavery, and public memory.
These are the essays:
RECONSTRUCTED BUT UNREGENERATE by John Crowe Ransom
A MIRROR FOR ARTISTS by Donald Davidson
THE IRREPRESSIBLE CONFLICT by Frank Lawrence Owsley
EDUCATION, PAST AND PRESENT by John Gould Fletcher
A CRITIQUE OF THE PHILOSOPHY OF PROGRESS by Lyle H. Lanier
REMARKS ON THE SOUTHERN RELIGION by Allen Tate
WHITHER SOUTHERN ECONOMY? by Herman Clarence Nixon
THE HIND TIT by Andrew Nelson Lytle
THE BRIAR PATCH by Robert Penn Warren
THE LIFE AND DEATH OF COUSIN LUCIUS by John Donald Wade
WILLIAM REMINGTON: A STUDY IN INDIVIDUALIST by Henry Blue Kline
NOT IN MEMORIAM, BUT IN DEFENSE by Stark Young
THE TWELVE SOUTHERNERS: BIOGRAPHICAL ESSAYS by Virginia Rock
For our knowledge of history teaches us this much: that the object of public education in the American Colonies and the later states up to 1865, was to produce good men. The system may have been imperfect in detail, but its aim was correct. Today the object of American education is to turn out graduates — whether good, bad, or indifferent we neither know nor care. Formerly, quantity had to give place to quality; today it is the reverse. Formerly we followed Goethe's maxim, to the effect that everything that frees man's soul, but does not give him command over himself, is evil.
When we remember the high expectations held universally by the founders of the American Union for a more perfect order of society, and then consider the state of life in this country today, it is bound to appear to reasonable people that somehow the experiment has proved abortive, and that in some way a great commonwealth has gone wrong.
There are those among us who defend and rejoice in this miscarriage, saying we are more prosperous. They tell us — and we are ready to believe — that collectively we are possessed of enormous wealth and that this in itself is compensation for whatever has been lost. But when we, as individuals, set out to find and enjoy this wealth, it becomes elusive and its goods escape us. We then reflect, no matter how great it may be collectively, if individually we do not profit by it, we have lost by the exchange. This becomes more apparent with the realization that, as its benefits elude us, the labors and pains of its acquisition multiply.

I have been clearing my reading list on the Fire 8 since getting the Kobo Libra 2. The plan going forward is to read ePub books on the Kobo with PDFs on the Fire 8 using Adobe Acrobat Reader.
I have never liked using ReadEra for PDFs and have tried 4-5 other reader apps these past few weeks and have now settled on Adobe. I'll also use the Fire 8 for reading books online and sometimes ReadEra for ePub. Haven't tried to read a MOBI format book on the Kobo yet but if it is poor then will use ReadEra on the Fire.
The month of November started with three mornings that were Winter with lows in the 30s. It warmed up again after that to give us Fall once more with the low temperatures in the 40s and lower 50s. Then Winter has returned for the past three mornings with the low yesterday morning below freezing. Probably see some more mornings like that before leaving for my next camp where the lows have been 40s and 50s with the lowest temperature at 40.4°