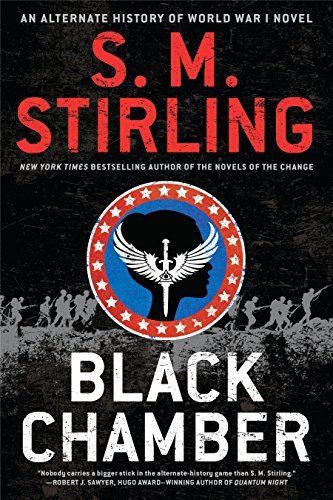 The first novel in a brand-new alternate history series where Teddy Roosevelt is president for a second time right before WWI breaks out, and on his side is the Black Chamber, a secret spy network watching America's back.

This is a good start to another trilogy. The author seemed to like to write a series of books which I like plus they are alternate history which I also like. The author also seems to like to have strong, active female characters playing the lead in his books which may have captured some female readers which alternate history is usually not their genre. 1916. The Great War rages overseas, and the whole of Europe, Africa, and western Asia is falling to the Central Powers. To win a war that must be won, Teddy Roosevelt, once again the American president, turns to his top secret Black Chamber organization—and its cunning and deadly spy, Luz O'Malley Aróstegui.

On a transatlantic airship voyage, Luz poses as an anti-American Mexican revolutionary to get close—very close—to a German agent code-named Imperial Sword. She'll need every skill at her disposal to get him to trust her and lead her deep into enemy territory. In the mountains of Saxony, concealed from allied eyes, the German Reich's plans for keeping the U.S. from entering the conflict are revealed: the deployment of a new diabolical weapon upon the shores of America… — Book promo @ goodreads.com

This was the first ePub book that I read using the Kobo Libra 2. The Kobo gave me a lot more flexibility in font size, line spacing and text justification. I don't know if I have found exactly what I want since I made a lot of adjustments as I was reading. However, I like it just as well, or better, than ReadEra on the Fire 8. I'll next try reading a PDF on the Kobo for which customer reviews have not been very positive but PDF on the Fire are not very good either.
The PDF on Kobo is just about as readable as when using ReadEra; rather poor but readable. I converted the PDF book to ePub using an online converter and that make it better because I could change the font size, line spacing and margins. Converted the same book using Calibre and got virtually the same results. Then using Calibre I converted the book from PDF to DACX then that to ePub and ended up with an ePub book that was still only marginally better than the first conversion (this conversion method was suggested by a posting I read online). There is some eReader software called KOreader that I could install which 'might' give me a better PDF reading experience but I'm not ready/willing to do that now.
Yesterday I went to the VA in Tucson again for what I hoped to be my last appointment with the cataract surgeon. I wanted to have breakfast at the Denny's on Houghton Rd but when I got there the only people in the parking lot were the employees waiting for the manger to open the doors. They claim they open at 6:00 and it was 6:40 when I got there.
Continued on down the road and stopped at Omar's Hi-Way Chef where I got breakfast at a price $3-4 more than Denny's which I consider expensive. Then to my appointment at the VA where I was given a good exam by a Resident and then his supervisor. It was agreed that this would be my last appointment in Tucson unless referred by the Eye Clinic in Sierra Vista.
That completes almost all of the things I had on my To Do List except getting Desperado's windshield replaced. She developed a crack from rock strikes last May but it was in a place that did not bother me. Then last week there was a spontaneous crack develop that is also not bothersome but it is time to get a replacement.