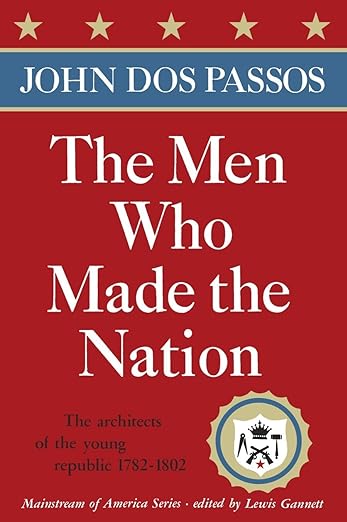 For this history, Dos Passos returns to the American colonial period and early nationhood, exploring the personalities who won the nation's independence from England: Alexander Hamilton, James Madison, John Adams, and George Washington.

This is a very good book by Dos Passos, much better than most of his early books in my opinion. It is also the fifth book in the Mainstream of America Series which I now plan on reading. History written by writers rather than academics.Originally called The World Turned Upside Down, The Men Who Made the Nation covers the period from 1781 to Hamilton's death in 1804. The work crystallizes the author's fascination with the psychology of the colonial freedom fighter and presents lessons for current American policymakers. — Book promo @ Amazon

I'll go to town again tomorrow on a regular shopping trip and pick up a package at my UPS Store. I can only hope that my new Kobo Libra 2 will also be there but probably won't be delivered until after I leave town. Maybe make a separate trip to go get it. I'm anxious to get started learning to use it; a gluten for punishment perhaps but anxious none the less.

The U.S. government said Thursday's action did not deviate from Biden's opposition to the wall because money that was allocated during Trump's term in 2019 had to be spent now.

Barcena [Mexico's Foreign Minister Alicia Barcena] indicated the U.S. funds would not necessarily be used for erecting walls.

"I understand it's not going to be via walls, it'll be via technologies, it'll be via other kinds of installations," she said. "I think this is what Secretary Mayorkas was kind enough to explain to us, because obviously we expressed our concern."
With the federal debt over $33 TRILLION the administrations thinking continues to be 'if there is money allocated then it must be spent'. This is insanity! Then to top it off the money will not be spent to build the wall but will be wasted on some more tech hopium.