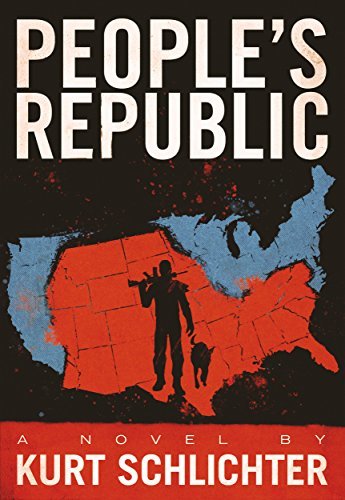 "America's growing political and cultural divisions have finally split the United States apart. Now, as the former blue states begin to collapse under the dead weight This was the first book in the Kelly Turnbull Series but is #5 in the story chronology. It is much better than the first book that I read by Schlichter but would not call it great literature. It is of the political fiction or dystopia genre depending on the book seller or reviewer. It is good entertainment. of their politically correct tyranny, a lethal operative haunted by his violent past undertakes one last mission to infiltrate and take out his target in the nightmarish city of Los Angeles, deep in the heart of the People's Republic of North America.
National Review's Jim Geraghty calls Kurt Schlichter's People's Republic "a surreal, fast-paced journey through a dramatically different America but less than a generation away. … Violent, imaginative, full of mordant humor and dark, gritty details, you won't want to live in this People's Republic… but you'll feel a chill as you wonder how different our real future will be."
Author and television host Cam Edwards says "Kurt Schlichter's People's Republic is a roller coaster ride through a post-election Hellscape that will leave you wanting more." Radio host Hugh Hewitt say "Schlichter puts a whole flight of Black Swans in the air — each of them plausible — and the result is a riveting, page-turner, and a demand from Schlichter for … more."
People's Republic is the first novel by Kurt Schlichter, a retired Army infantry colonel, a conservative radio and television commentator on the Fox networks and elsewhere, a Senior Columnist at Townhall.com, and a popular and hilarious Twitter raconteur. He's also a trial lawyer, so he has an intimate understanding of evil and deception.
Radio host and commentator Ben Shapiro calls People's Republic "chilling," and author and columnist David Limbaugh calls it "a thought-provoking action thriller set against the backdrop of a shattered America."
Fox News contributor and author Katie Pavlich says, "They say conservatives are terrible story tellers, but Kurt Schlichter destroys that stereotype in his new novel People's Republic and issues a dire warning about the future of America."
As with his prior book Conservative Insurgency: The Struggle to Take America Back 2013-2041, People's Republic takes today's news and projects the trends out into the future. Funny, frightening and action-packed, People's Republic is a thriller that will make you think as well as keep you turning the pages." — Book promo @ goodreads.com

I have had troubles come in bunches. I wrote about the problems getting a dental cleaning by the office in Eagar, AZ. Plus the problem with Desperado running on nine cylinders. Well, about a week or 10 days after that the 110v electric circuit to the refrigerator kept clicking off the circuit breaker and also throwing sparks. I think there was a loose wire and it has now burnt through. Then last week I broke a tooth so it is just as well I had the Eagar dental office problem because I'll not go there; I have an appointment in October that I think can fix it along with a cleaning. Last but not least I had another psoriasis flare last Saturday which carried over to Sunday with me feeling poorly. Still not up to par today with Erik walks in abeyance the past couple of days. Maybe back to the routine tomorrow.