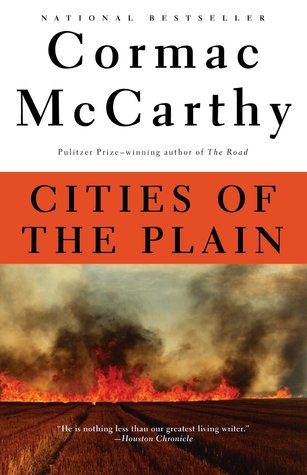 The concluding volume of the Border trilogy. In this magnificent new novel, the National Book Award-winning author of All the Pretty Horses and The Crossing fashions a darkly beautiful elegy for the American frontier. It is 1952 and John Grady Cole and Billy Parham are working as ranch hands in New Mexico, not far from the proving grounds of Alamogordo and the cities of El Paso and Juarez. I think this was the best of the three books in the trilogy. Sad that it has concluded. Also sad that Cormac McCarthy died on 13 June 2023 so he will write no more. There are more of his books that he did write that I have yet to read so that is good. Their life is made up of trail drives and horse auctions and stories told by campfire light. They value that life all the more because they know it is about to change forever.
The change comes when John Grady falls in love with a beautiful, ill-starred Mexican prostitute and sets in motion a chain of events as violent as they are unstoppable. Haunting in its beauty, filled with sorrow, humor, and awe, Cities of the Plain is a genuine American epic.

I drove to Quemado, NM yesterday morning. It was the first time I had been in the town since May 2016 and not much has changed. My first stop was at Cafe Chubascos which from the exterior doesn't look like they are ever open and they weren't when I got there. So I tried the Largo Cafe but their hours were noon to 8:00 pm. Went across the street to J & Y Auto Services and filled Desperado with gas and asked the 'locals' where I could get breakfast. They thought that the Cafe Chubascos but they were not sure. It seems that the same people own both restaurants and they have one of them open in the morning but they were not sure which days. Went back there and found them open; after a long wait I got a very expensive breakfast. From there I stopped at the Country Store and looked around; not as good as Jake's in Reserve. All in all it was an expensive morning that with perfect hindsight I could have avoided.
This past Saturday we got what I call a 3-4″ rain. That is when the rain drops fall 3-4″ apart and very few of them. On Sunday there was almost a repeat but this time it did dampen the ground; maybe could call it a trace of rain. Yesterday we got rain. Not much but it was measurable all 0.03″ of it. I guess you could say that the monsoon has started.

The West has pledged a total of over $94.5 billion in military aid to Ukraine over the past 18 months. For comparison, Russia in 2023 committed five trillion rubles, equivalent to about $56.6 billion, for defense spending in 2023.
It should be noted that not all the military aid slated for Ukraine actually goes to the Eastern European country, and that part of it never reaches the front lines. Part of the cash stays in the US, and goes into the pockets of US defense industry giants like Northrop Grumman and Lockheed Martin to assist in military production and new capacities. Part is suspected to be pilfered by Ukrainian officials, with Western weapons being smuggled out of the country and ending up in the hands of European gangs, or African and Middle Eastern militant and terrorist groups. Part of it is thrown into battle against Russian forces, including in the recent stalled Ukrainian counteroffensive, which has cost Kiev thousands of soldiers' lives and hundreds of tanks and armored vehicles.