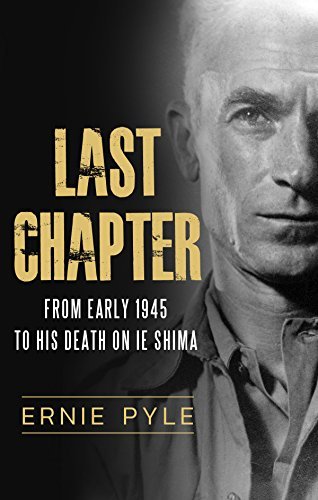 The Battle of Okinawa was the very last pitched battle of the Second World War, and it was here, at Ie Shima, that our greatest war correspondent, Ernie Pyle, tragically lost his life.

After covering the war from the British home front to North Africa, Italy, and France, he left the European Theater to go to the Pacific to cover what would be the last few months of conflict with the Japanese forces.

Instead of recounting the discussions and activities of generals or the movements of armies, Pyle captured the daily lives of the common soldier and showed the public how their brothers, fathers and sons were experiencing the war.

Rather than covering the war from safety, he threw himself into the heat of battle so that he could fully understand and record what the fighting men were going through.

Last Chapter is a collection of his last articles that he wrote while witnessing the conflict in the Pacific.

During his time in the Far East he spent time in the occupied Marianas, with pilots and aircrew of B-29's as they flew in missions over the Japanese mainland, with sailors in the hundreds of boats that were swarming the Pacific Ocean, and with marines as they were preparing for the assault of Okinawa.

"No man in this war has so well told the story of the American fighting man as American fighting men wanted it told", wrote Harry Truman. "He deserves the gratitude of all his countrymen."

"These pages will of course have a commemorative value, mark an end to one of the best known, best loved figures of the war." Kirkus Reviews

Ernie Pyle was the most celebrated war correspondent of World War Two. His work ran in one-hundred and forty-four papers and reached an audience of forty million Americans. His brilliant portrayal of the everyday fighting man in World War Two won him a Pulitzer Prize in 1944. Last Chapter was first published in 1946 after Pyle had been killed at Ie Shima on 18th April, 1945.

This was that second book that I was reading while also trying to code Books I've Read. I have now finished the two books and have also finished the coding. There may be some more cosmetic coding to be done but it is WORKING.

It has taken me a long time to accomplish this. But, considering the fact that I do not know what I'm doing and it has all been done using the "Try again. Fail again. Fail better." coding method, I'm rather proud of what I have done.

I don't understand the emphasis on faster delivery. What is the marketing advantage in delivering something in two days rather than four. But I'm 'old school' where you would mail in an order to Sears and they would then mail back the items ordered. Sometimes that would take a month. I don't order from Amazon anymore because that can't deliver in two day or two months; they simply can't deliver to someone that doesn't live in a sticks-n-bricks.
Amazon is focusing on using artificial intelligence to speed up deliveries — by minimizing the distance between its products and customers, a top executive told CNBC.

Stefano Perego, vice president of customer fulfilment and global ops services for North America and Europe at Amazon, outlined how the company is using AI when it comes to logistics. — Amazon is focusing on using A.I. to get stuff delivered to you faster by Arjun Kharpal

Another meme that is more truth than humorous.

1987: This is your brain on drugs commercial.
2023: Eggs are too expensive and gas stoves are banned.
Your only option is drugs.