This morning was another one that got colder after the sun came up and it brought the snow down to the level of the Park. The snow that I drove in last week was probably at an elevation that was 1000′ higher. The forecast high for today is 44° with a very cold 23 for the low tomorrow morning — I expect it to be in the teens.

The rest of this posting is just about one of the books that I have finished. It was relatively short and with separate articles it was a good book to switch back and forth with a longer one when I needed a break from it. I'll post about the longer one tomorrow.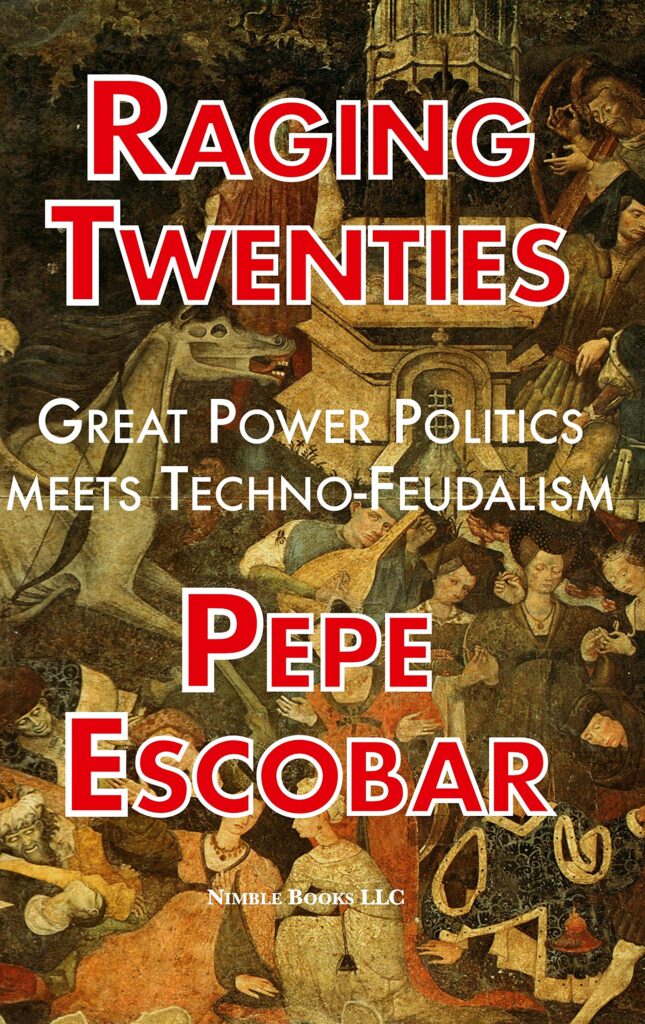 In Raging Twenties, Pepe Escobar smashes a triple-wide jumbo bulldozer of erudition and insight through the painfully narrow and now Big Tech-fortified Overton window of conventional American political discourse. This volume includes 25 essays written for Asia Times, Consortium News, and Strategic Culture in the incomparable year of 2020 and adds a new introduction, afterword, and table of abbreviations. Educated people of all political persusasions will enjoy Escobar's stinging prose and his display of his wide-ranging and truly global knowledge of poetry, history, and political philosophy. I read all of Pepe's articles that I see on Strategic Culture but most or these were first published in Asia Times. Good articles that are recommended. American readers already skeptical of the dominant narrative will enjoy this scintillating dissection of the mammoth hypocrisy involved in the standard governmental and corporate narrative. And those with perspectives similar to the American mainstream will benefit from reading a truly Other-centered exemplar of the several billion people who find the political perspectives that are commonplace in Asia, Europe, China, Russia, and Iran more congenial than those of a US establishment that has gifted the world with seventy-five-plus years of continuous war. — Book promo @ Amazon

More memes that I liked.

I spotted an albino dalmatian yesterday, it was the least I could do.

I also saw a one legged man at the ATM, he was checking his balance.