Prologue
What follows are letters that I mailed to Shirley, a friend and cyclist, that was with me on the Cross Country and the Western Tours. I had a computer available but internet service was so poor that email could not be sent so all of them were mailed. She then made a few copies and mailed them to others in our bicycling group who then passed them on to others. A 'chain' letter of sorts.
When I returned from Japan in 2001 Shirley picked me up at the airport in San Francisco and I spent a couple days at her place in Lake Tahoe. It was there that she said that she had most of the letters that I had sent and asked if I wanted them. Sadly, Shirley died soon after she had given me these letters. She fought her cancer for over 5 years and remained the same positive, cheerful person during that time as the one that I first meet on the x-country ride in 1990.

A few years later I retyped them (including all the misspellings and poor grammar) as web pages in a newly developed website. There were no pictures mailed with the letters but I added them when creating the web pages.
I am now moving them from that website to this WordPress site as Pages. The Pages continue to have the appearance of letters but I am hoping that they will flow more like a book rather than a blog.
The Peace Corps experience all began while I was working in Reno and had become bored with what I was doing. So I was casually looking at the Help Wanted notices in the news paper and saw one that was looking for 'Ex-bankers'. I read the expected duties and experience required and thought that I was qualified and only then at the bottom of the notice saw that it was an ad posted by the Peace Corps. I contacted them which started a 13 month bureaucratic process to be accepted.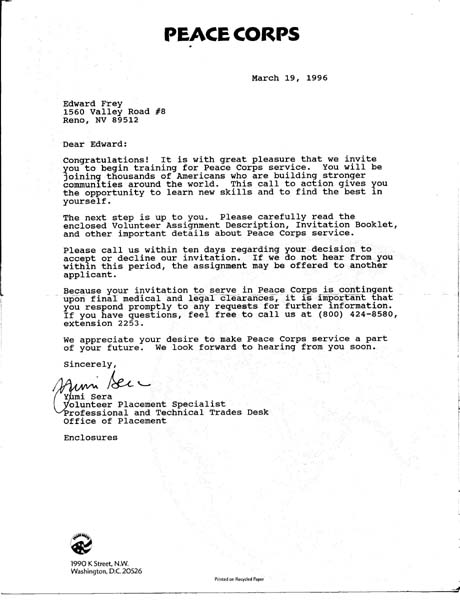 After receipt of the Acceptance Letter shown on the right there were a couple of telephone calls. In the first one the Peace Corps asked me if I would be open to accepting a Volunteer Position in a "former Soviet Union country"; I told them yes. For a couple of weeks I thought it would be one of 'stan' countries in Asia. Later, in the second call they asked me if I would accept Bulgaria; I told them yes. I had the opportunity to decline Bulgaria and they would have offered me a second country but it is VERY doubtful that a third country would be offered (you would be considered not serious and dropped). I was told by someone in the Peace Corps that for 1996 they needed to fill 10,000 positions. There were something like 500,000 inquiries and 100,000 completed Applications were received to get those 10,000.
I received the letter on the right from The White House soon after the Acceptance Letter. At that time I made a 5×8 framed copy of it and had it hanging on my wall at work until I left for Washington D.C. in June of 1996.
I don't have any of the paperwork that got me to Washington but I was sent instructions and a plane ticket. All the Volunteers in my Group met there for three days for orientation and then flew as a Group to Bulgaria and bus to Kyustendil where we had 3 months training.
In one of the 2 or 3 missing Letters written from Kuystendil I may have told about how some of the Training was individualized and the placement of Volunteers certainly was. The Pre-Training Questionnaire shown below helped the Peace Corps Staff in this regard.
However, I think the placements were driven more by the volunteers personality, character, language skills and how they might fit in with the community where they were to be placed.